Buy a Chinese and/or Japanese Bruce wall scroll with here!
Click the "Customize & Buy" button next to your name below to start your custom bruce calligraphy artwork...

jié quán dào

jeet kune do

sekken dou

In Cantonese, this is Jeet Kune Do. Often it is explained as the "Way of the Intercepting Fist." 截拳道 is a martial art style founded by Bruce Lee.

The first character means to cut-off or sever.
The second character is fist.
The last character means way or method.
---
See Also: Bruce Lee

gōng fu

gung fu

kan fu / ku fu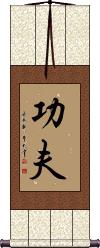 One of the most famous types of martial arts in the world - and not just because of Bruce Lee.

Some translate the meaning as "Accomplishment by Great Effort." I think this is partially true but directly translated it literally means "Merit/Achievement/Accomplishment Man." The word "fu" can sometimes mean "husband" or "porter" but in this case, it can only mean "man." However, few in China will think "man" when they hear the word "Gong Fu" spoken.

This term is also used for things other than martial arts. In fact, it's used to refer to a person with excellent skills in crafts that require a great deal of effort such as cooking, tea ceremonies, and calligraphy.

What a lot of people don't know is that the spelling of "Kung Fu" was actually taken from the old Wade Giles form of Romanization. Using this method, the sounds of the English "G" and "K" were both written as "K" and an apostrophe after the "K" told you it was supposed to sound like a "G." Nobody in the west knew this rule, so most people pronounce it with a "K-sound." And so Gong Fu will always be Kung Fu for most westerners.

Also, just to educate you a little more, the "O" in "Gong" has a sound like the English word "oh."

The popular Chinese dish "Kung Pao Chicken" suffers from the same problem. It should actually be "Gong Bao Chicken."

Historical note: Many will claim that Kung Fu was invented by the monks of the Shaolin monastery. This fact is argued in both directions by scholars of Chinese history. Perhaps it is more accurate to say that the Shaolin Monks brought the original fame to Kung Fu many generations ago.
---
Japanese note: While most Japanese martial artists will recognize these characters, Katakana is more often used to approximate the pronunciation of "Kung Fu" with "カンフー." Some will argue as to whether this should be considered a Japanese word at all.
---
See Also: Bruce Lee
The following table may be helpful for those studying Chinese or Japanese...
Title
Characters
Romaji

(Romanized Japanese)

Various forms of Romanized Chinese
Bruce
布魯斯

---

布鲁斯
bù lǔ sī

---

bu4 lu3 si1

---

bu lu si

---

bulusi
pu lu ssu

---

pulussu
Bruce
ブルース
buruusu / burusu
Jeet Kune Do
截拳道
sekken dou / sekkendou / seken do / sekendo
jié quán dào

---

jie2 quan2 dao4

---

jie quan dao

---

jiequandao
chieh ch`üan tao

---

chiehchüantao

---

chieh chüan tao
Kung Fu
Gong Fu
功夫
kan fu / ku fu

---

kanfu / kufu
gōng fu / gong1 fu / gong fu / gongfu
kung fu / kungfu
Little Dragon
小龍

---

小龙
xiǎo lóng

---

xiao3 long2

---

xiao long

---

xiaolong
hsiao lung

---

hsiaolung
In some entries above you will see that characters have different versions above and below a line.
In these cases, the characters above the line are Traditional Chinese, while the ones below are Simplified Chinese.