Buy a Chinese and/or Japanese Ace wall scroll with here!
Click the "Customize & Buy" button next to your name below to start your custom ace calligraphy artwork...

yāo

yao

요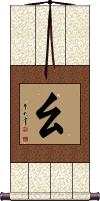 幺 means one, as used on a dice or in a card game.

Thus, in that context, it means Ace.

幺 can also be the surname "Yao" in both Chinese and Japanese.
Note: Rarely if ever used in Korean.

幺 can sometimes be written these ways:


The following table may be helpful for those studying Chinese or Japanese...
Title
Characters
Romaji

(Romanized Japanese)

Various forms of Romanized Chinese
Ace
艾斯
ài sī / ai4 si1 / ai si / aisi
ai ssu / aissu
Ace
エース
eesu / esu
Flying Ace
Aviator
Bird Man
鳥人
chou jin / choujin / cho jin / chojin
Ace
One
幺
yao
yāo / yao1 / yao
In some entries above you will see that characters have different versions above and below a line.
In these cases, the characters above the line are Traditional Chinese, while the ones below are Simplified Chinese.